Writing JavaScript is hard. You won't get it right the first time. You'll make silly mistakes or overlook your syntax. Luckily, JavaScript has some helpful error codes that try to tell you what to fix.
For someone who is new to JavaScript, understanding these messages can be tricky. What's the difference between a SyntaxError and a TypeError? What the heck does undefined is not a function mean? Today we take a look at common JavaScript error codes and their fixes.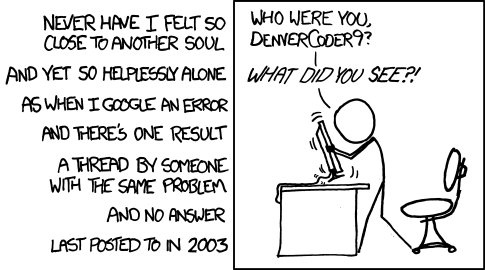 The stuff of nightmares for new developers. Credit xkcd
Update: Google has improved its exception messages. No more "undefined is not a function".
EvalError
Definition:
Comes up regarding a problem with the global function eval().
Fix:
You should never get this error, because, as a developer, you should never be using the eval() function in any sort of production code ever.
RangeError
Definition:
As the name implies, RangeError comes up when one of your parameters (numeric only) is outside of its specified range.
Fix:
Check your parameters first to make sure you are passing valid numbers to your functions. Then, make sure all of your associations are correct; that your ranges are properly defined with signs and numbers and that your passing the expected parameters to the expected functions.
ReferenceError
Definition:
Comes up when there is an invalid reference in your code.
Fix:
ReferenceError typically returns "someVariable is not defined." It's easy to confuse "not defined," where an object does not have any defintion or assignment at all, and "undefined," which is a blank or empty value. I call this one the "typo error," because its usually human errors that lead to variables not being properly assigned in the code. Take a close look at your spelling and case.
TypeError
Definition:
Returns when an object does not have the proper type
Fix:
TypeError is a sneaky one, because the message doesn't give you a whole lot of information about where the error is occuring. This error typically comes from improper scoping. Consider the following code:
var Game = function () {
    this.startGame();
    this.timer = setTimeout(function() {
        this.stopGame();    // What is "this" referring to here?
    }, 0);
};

Calling the Game() function returns:
 Uncaught TypeError: undefined is not a function

It may take a few looks to realize that the setTimeout function is actually called against the window object, not the Game object. Window does not have a default stopGame function. Coder General contributor Faina Shalts recently wrote an excellent piece that goes more in depth on the 'this' keyword in JavaScript.
SyntaxError
Defintion:
Returns when any single hair of JavaScript syntax is out of place.
Fix:
One of the less-awesome parts of writing JavaScript is the extensive use of curly braces, semi-colons, and parentheses. When functions and variables become nested several layers deep, its easy for developer to lose track. Thankfully, syntax errors have straightforward fixes. Check your closures, spelling, and look for typos, especially of singular/plural named functions and variables.
URIError
Definition:
Returns when a URI passed to JavaScript code is not written properly.
Fix:
URI errors are similar to syntax errors, but specifically for URIs. For example, if you pass a % in a URL, without any characters after it, you'll get an URIError. In JavaScript, % is an escape character. The JavaScript functions that evaluate URIs are expecting characters after, and there are none. Check your URIs to make sure all of the syntax is correct.
Every JavaScript developer has run into errors in his or her code at some point. A good developer is able to learn from seeing error codes and fixing the problems. JavaScript nirvana may well be the ability to look forward to getting errors in your code. No matter what errors you get while writing JavaScript, remember that they're just trying to help. Really.